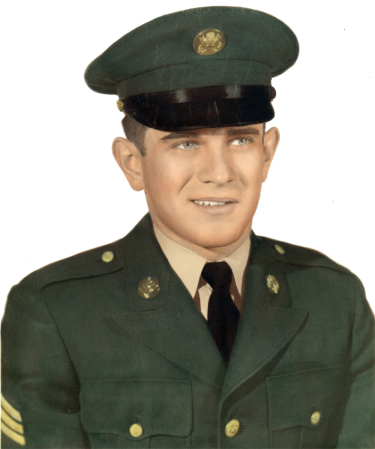 Whaley, Lewis Daniel
Jonesborough, Tennessee
Branch:
Army
Rank:
Sergeant
Military Occupational Specialty (MOS):
Radio Relay/Telephone and Teletype Carrier Team Chief
Unit(s) Served In:
Army Signal Corps, 596th Signal Support Company, 97th Signal Battalion, 7th U.S. Army
Service Dates:
02 Jun 1961 - 01 Jun 1964
Story:
Lewis Daniel "Zeke" Whaley served in the United States Army from 1961-1964. He underwent basic combat training at Fort Knox, Kentucky, and advanced individual training at Southeastern Signal School, Fort Gordon, Georgia. Whaley then traveled to Fort Dix, New Jersey, where he departed for Brooklyn Harbor in New York City to board the General Simon B. Buckner.
The Statue of Liberty soon faded into the Atlantic Ocean. Following several days of seasickness, Whaley gazed at the White Cliffs of Dover, England, shortly before the Buckner docked in the port of Bremerhaven, Germany. GIs then boarded trains en-route to Kaiserslautern, Germany. 
While stationed in Kaiserslautern, Specialist 4th Class Whaley served with the 596th Signal Support Company, 97th Signal Battalion, 7th U.S. Army, as a Radio Relay/Telephone and Teletype Carrier Operator. He was accompanied by many soldiers wearing the blue, gold, and red 7th Army patch, also known as the Seven Steps to Hell.
Whaley resided in the two-story buildings of Pulaski Barracks, a United States Army base located in Kaiserslautern and near the towns of Vogelweh and Ramstein. He would occasionally hike to nearby Hohenecken Castle — a historic castle located on a ridge approximately two to three miles from Pulaski Barracks. The 596th conducted fall Army maneuvers at that time in and around Baumholder, Germany.
A common rumor was that Elvis Presley, who was in the Army during those years, had visited Baumholder a few months before the 596th conducted its maneuvers in the same year the Berlin Wall was being built — 1961.
Whaley sailed back home on Saturday, September 28, 1963, on the same ship that took him to Germany — the Buckner. Whaley arrived about eight days later at Hampton Roads, Virginia, located in the Norfolk area. Shortly thereafter, he took a plane to Fort Smith, Arkansas, a city close to Fort Chaffee, where the 596th Signal Support Company was reassigned to the 509th Signal Battalion, Fourth Army. Whaley was stationed at Fort Chaffee for about nine months, three months of which he was assigned to the 176th Signal Company (LB). Whaley's Enlisted Time Served was completed June 1, 1964.
Whaley was awarded proficency pay for MOS 293.60, Radio Relay/Telephone and Teletype Carrier Operation, he was also awarded the Army Good Conduct Medal, National Defence Service Medal, M-1 Sharpshooter Rifle badge, M-14 Marksman Rifle badge, DRIVER - W (for wheeled vehicles) badge, Letter of Congratulations upon completion of Basic Combat Training at Fort Knox, Kentucky in summer of 1961, for High Score of 94 Proficency Test at end of Basic Combat Training.
Whaley continued his interest in Ham Radio. His callsign is WA4MFZ.