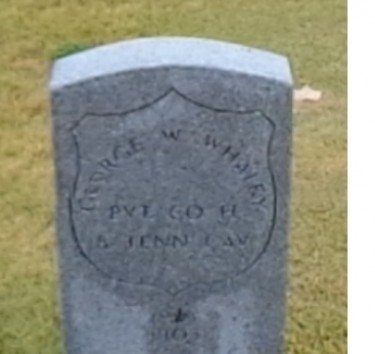 Whaley, George W.
Garber, Tennessee
Branch:
Union Army - Cavalry
Rank:
Private
Military Occupational Specialty (MOS):
Cavalry - Horseback mounted forces
Unit(s) Served In:
Union 8th Tennessee Cavalry, Company H
Service Dates:
01 Jan 1863 - 11 Sep 1865
Story:
George W. Whaley, Great Grandfather to Paul Whaley Jr., Will David (Dee) Whaley, Carlos Calvin Whaley and Lewis Daniel Whaley.
Born:  1843
Died:  1903
Following text from website
www (dot) researchonline (dot) net/tncw/unit294 (dot) htm
Tennesse 8th Cavalry Regiment (Union)
ORGANIZATION:
This Regiment was organized August, 1863, by consolidation of 5 Companies 
organized at Camp Nelson, Ky., June 30 to August 14, 1863, for 10th Tennessee Cavalry,
and 7 Companies organized in Tennessee at large for 5th East Tennessee Cavalry. 
There was another 10th Tennessee Cavalry Regiment formed under the command of
Col. George W. Bridges.
The Regiment lost during service 1 Officer and 37 Enlisted men killed and mortally wounded
and 1 Officer and 241 Enlisted men by disease. Total 280.
SERVICE:
Skirmish, Hawkins County, August 1, 1863.
Burnside's Campaign in East Tennessee August 16-October 17, 1863.
Occupation of Knoxville September 2. Greenville September 11.
Kingsport September 18.
Bristol September 19.
Carter's Depot September 20-21.
Zollicoffer September 20-21.
Watauga River Bridge September 21-22.
Jonesboro September 21.
Hall's Ford, on Watauga River, September 22.
Blountsville, Johnson's Depot and Carter's Depot September 22.
Blue Springs October 10.
Henderson's Mill and Rheatown October 11.
Zollicoffer October 12.
Blountsville October 14.
Bristol October 15.
Knoxville Campaign November 4-December 23.
Siege of Knoxville November 17-December 5.
Duty at Knoxville, Greenville, Nashville and Columbia and patrol duty on line
of Nashville & Chattanooga Railroad from Columbia to Nashville till August, 1864.
At Bull's Gap till October, 1864. 
Rheatown September 28. Watauga River September 29.
Carter's Station September 30-October 1.
Operations in East Tennessee October 10-28.
Greenville October 12.
Bull's Gap October 16.
Clinch Mountain October 18.
Clinch Valley, near Sneedsville, October 21.
Mossy Creek and Panther Gap October 27.
Morristown October 28.
Russellville October 28.
Operations against Breckenridge in East Tennessee November 4-17.
Russellville November 11.
Bull's Gap November 11-13.
Russellville November 14.
Strawberry Plains November 16-17.
Flat Creek November 17.
Stoneman's Saltsville (Va.) Raid December 10-29.
Big Creek, near Rogersville, December 12.
Kingsport December 13. 
Near Glade Springs December 15. 
Near Marion and capture of Wythevill December 16.
Mt. Airey December 17.
Near Marion December 17-18.
Capture and destruction of Salt Works at Saltsville December 20-21.
Stoneman's Expedition from East Tennessee into Southwest Virginia and Western North Carolina March 21-April 25, 1865.
Wytheville April 6.
Shallow Ford and near Mocksville April 11.
Salisbury April 12. Catawba River April 17.
Swannanoa Gap April 22.
Near Hendersonville April 28.
Duty in District of East Tennessee till September, 1865.
Mustered out September 11, 1865.