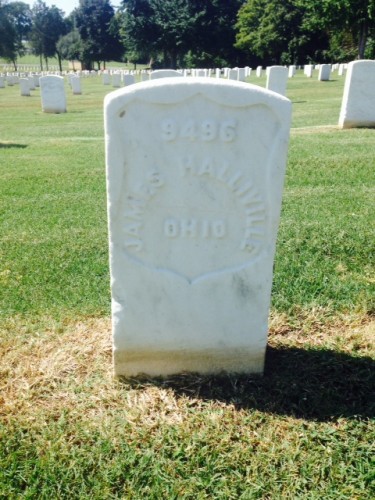 Halliwill, James
Stark County, Ohio
Branch:
Union Army - Infantry
Rank:
Corporal
Military Occupational Specialty (MOS):
Infantry
Unit(s) Served In:
Company E 101st Ohio Volunteer Infantry
Service Dates:
06 Aug 1862 - 03 Jan 1865
Story:
My Great Great Uncle James Halliwill enlisted as a Private on 6 August 1862. He was promoted to Corporal 0n 1 March 1864. James survived many Campaigns and Battles with the 101st OVI until he was wounded at the Battle of Nashville on the 15 - 16 of December 1864. He died from those wounds on 3 Jan 1865.  His unit was involved in the following Campaigns:
101st Regiment Infantry. Organized at Monroeville, Ohio, August 30, 1862. Left State for Covington, Ky., September 4, thence moved to Louisville, Ky., September 24. Attached to 31st Brigade, 9th Division, Army of the Ohio, September, 1862. 31st Brigade, 9th Division, 3rd Corps, Army Ohio, to November, 1862. 2nd Brigade, 1st Division, Right Wing 14th Army Corps, Army of the Cumberland, to January, 1863. 2nd Brigade, 1st Division, 20th Army Corps, Army of the Cumberland, to October, 1863. 1st Brigade, 1st Division, 4th Army Corps, Army of the Cumberland, to June, 1865.
SERVICE.--Pursuit of Bragg into Kentucky October 1-15. Battle of Perryville, Ky., October 8. March to Nashville, Tenn., October 16-November 7, and duty there till December 26. Advance on Murfreesboro, Tenn., December 26-30. Nolensville December 26. Battle of Stone's River December 30-31, 1862, and January 1-3, 1863. Duty at Murfreesboro till June. Reconnoissance from Murfreesboro March 6-7. Reconnoissance to Versailles March 9-14. Operations on Edgefield Pike, near Murfreesboro, June 4. Middle Tennessee or Tullahoma Campaign June 23-July 7. Liberty Gap June 24-27. Occupation of Middle Tennessee till August 16. Passage of the Cumberland Mountains and Tennessee River, and Chickamauga (Ga.) Campaign August 16-September 22. Battle of Chickamauga September 19-20. Siege of Chattanooga, Tenn., September 24-October 26. Reopening Tennessee River October 26-28. Moved to Bridgeport, Ala., October 28, and duty there till January 16, 1864, and at Ooltewah till May. Atlanta (Ga.) Campaign May to September. Tunnel Hill May 6-7. Demonstrations on Rocky Face Ridge and Dalton May 8-13. Buzzard's Roost Gap May 8-9. Battle of Resaca May 14-15. Near Kingston May 18-19. Near Cassville May 19. Advance on Dallas May 22-25. Operations on line of Pumpkin Vine Creek and battles about Dallas, New Hope Church and Allatoona Hills May 25-June 5. Operations about Marietta and against Kenesaw Mountain June 10-July 2. Pine Hill June 11-14. Lost Mountain June 15-17. Assault on Kenesaw June 27. Ruff's Station, Smyrna Camp Ground, July 4. Chattahoochie River July 5-17. Peach Tree Creek July 19-20. Siege of Atlanta July 22-August 25. Flank movement on Jonesboro August 25-30. Battle of Jonesboro August 31-September 1. Lovejoy Station September 2-6. Operations against Hood in North Georgia and North Alabama October 3-26. Nashville Campaign November-December. Columbia, Duck River, November 24-27. Battle of Franklin November 30. Battle of Nashville December 15-16.
James remains are located in the Nashville National Military Cemetary. I have attached a picture of his headstone. His last name is spelled incorrectly due to the remains being hastily buried. Documents from his unit validate the wounds and death. His body was exhumed and re-interred (as were most war dead then) at least twice before he was buried in the National Cemetary. While I did not know James I can tell you that he was a common farmer from a family of farmers who volunteered to serve his Country at a pivotal time in our history. His service culminated in  " the last full measure of devotion—that we here highly resolve that these dead shall not have died in vain—that this nation, under God, shall have a new birth of freedom—and that government of the people, by the people, for the people, shall not perish from the earth." (extracted from Lincoln's Gettysburg Address)