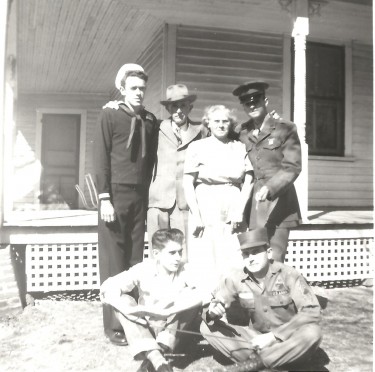 Whaley, Paul Jr.
Johnson City, Tennessee
Branch:
Army National Guard
Rank:
Master Sergeant
Military Occupational Specialty (MOS):
Armor Tank Commander, M-48 Patton Tanks
Unit(s) Served In:
30th Infantry Division
Service Dates:
25 Mar 1952 - 24 Mar 1961
Story:
Picture - Bottom row, Left to Right, Lewis Whaley  civilian clothes, Paul Whaley Jr. Master Seargent,  U.S. Army National Guard, Top row, Left to Right, Will David Whaley  U.S. Navy, Paul Whaley Sr. our Father, Lou Elswick Whaley our Mother, Carlos Calvin Whaley  U.S. Marine Corps.
The 30th Infantry Division "Old Hickory" of the Army National Guard was active between 1917–18, 1940–45, 1947–74 and participated in World Wars I and II.
It was formally activated under its new title in October 1917,  as a National Guard Division from North Carolina, South Carolina, Georgia, and Tennessee.