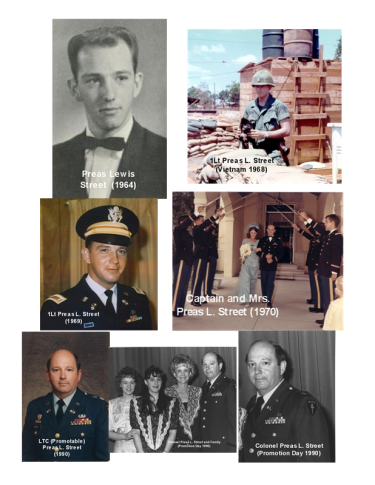 Street, Preas Lewis
Martinez, Georgia
Branch:
Army
Rank:
Colonel
Military Occupational Specialty (MOS):
Signal Corps
Unit(s) Served In:
4th Infantry Division, 82nd Airborne Division, 67th Signal battalion, 7th Signal Brigade, U.S. Army Signal Center, and U.S. Army Information Systems Command
Service Dates:
28 Sep 1966 - 01 Oct 1992
Story:
Colonel (USA Retired) Preas L. Street is a native of Johnson City, Tennessee.  Following High School, he attended East Tennessee State University until being drafted and entering the U.S. Army as a Private in September 1966.  He was known by his middle name, Lewis, before entering the Army.  He completed Infantry Basic Training and Combat Engineer Advanced Individual Training (AIT).  During AIT, he applied for and was accepted for Officer Candidate School.  He completed Signal Corps Officer Candidate School at Fort Gordon, GA and was commissioned a 2nd Lieutenant in the Signal Corps in August 1967.  He then completed the Communications-Electronics Staff Officer course and airborne training followed by a combat tour in Vietnam with the 4th Infantry Division as a tactical communications Platoon Leader.
Upon returning from Vietnam he was assigned to the 82nd Airborne Division's 82nd Signal Battalion serving as a Platoon Leader, Assistant Operations Officer, Company Commander, and Adjutant.  After deciding to make the Army a career, he served in a variety of command and staff positions including, instructor with the Signal School at Fort Gordon, Company Commander and Operations Officer in the 67th Signal Battalion, and Organizational Effectiveness Staff Officer and Deputy Installation Commander with the 7th Signal Brigade in Germany.  He returned to Fort Gordon in 1981 and served as an Action Officer in the Office of the TRADOC System Manager for Tactical Automatic Switching and as Deputy Commander of a training Brigade.  Reassigned to Fort Huachuca, AZ in 1984, he served as the Executive Officer for the Communications-Electronics Engineering and Installation Activity followed by a tour as the Secretary of the General Staff for the U.S. Army Information Systems Command.  He returned to Fort Gordon in 1986 and commanded the 551st Signal Battalion until being reassigned as the Assistant Chief of Staff until 1989 when he departed to attend the Army War College at Carlisle Barracks, PA.  He returned to Fort Gordon in 1990 and served as the Director of Evaluation and Standardization and later as the TRADOC Systems Manager for Battlefield Computers. 
Between staff and command assignments, Colonel Street completed several advanced military schools, including the Organizational Effectiveness Staff Officer Course, the Command and General Staff College, the Joint Staff Officer's Operations Course, and the U.S. Army War College.  He also received both his undergraduate and graduate degrees while on active duty.  He holds a Bachelor of Science Degree in Business Administration from the University of Tampa and a Masters of Business Administration from Golden Gate University.
Colonel Street's awards include the Vietnam Service Ribbon, Vietnam Campaign Ribbon with 5 campaign stars, Army Commendation Medal, Bronze Star, Meritorious Service Medal, with three Oak Leaf Clusters, and the Legion of Merit.  Colonel Street also holds the Army Parachutist Badge and the Signal Corps Regiment's Bronze and Silver Orders of Mercury.
He retired from active duty in 1992 and until his retirement in July 2010, he served as a Site Supervisor and Program Manager (Contract Manager) for several contracts supporting the Department of Energy at the Savannah River Site near Aiken, SC.  Employers winning the contract for which he worked were World Computer Systems, Inc. (1992-1995); Madison Research Corporation (1995-2002); and American Services Technology, Inc. (2002-2010).
Colonel Street is a Life Member of the U.S. Army Signal Corps Officer Candidate School Association and serves as a member of the Board of Directors, Treasurer, and Chairman of the Scholarship Program.  He is also a Life Member of the Disabled American Veterans (DAV) and the Veterans of Foreign Wars (VFW), and currently volunteers as the Coordinatorof the Columbia County Sheriff's Auxiliary Unit.
Colonel Street is married to the former Diana Alstatt Ceres (since 1970).  They have two daughters (Debbie and Michele),  four grandchildren (Tyler, serving as an Army Recruiter; Katherine, works for Microsoft; Jonathan, attending Merecer University; and Jessica, attending Evans High School), as well as three great grandchildren (Axl, Oaklee, and Maddox).